A person in my Gmail contacts had a link to this image in her status message, and she said, "Seriously, I want to know who died in the blogging accidents."
I
want to know who died knitting!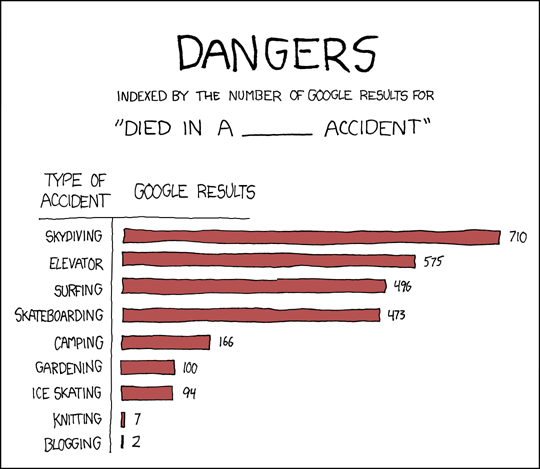 And this reminds me of that scene in
East of Eden
(Steinbeck) when the woman tries to give herself an abortion with a knitting needle. Last weekend someone was talking to me about this book and I thought of that scene then, too! Why does it keep haunting me?
Anyway. Enough of that.
I did some research, and it turns out the only person who has died in a knitting accident (as far as we know, because, really, who would write that in the obit of a dead relative?) is a fictional character named Cheryl sung about on "Whose Line Is It Anyway?" And then there's a strange reference to the high number of knitting deaths in D.C. in the comments on
a blog entry
by a 28-year-old female Sagittarius. And the results are significantly higher now because people are spreading the buzz about that silly picture you see up there, and they're writing crazy things like "died in a knitting accident" without having any good, juicy news to back it up. (Guilty!)
I didn't look up who died in a blogging accident. That's just ridiculous, and, if you know me well enough, "survival of the fittest." He got what he had coming.